Utah - ATV/UTV Heaven

04-28-2018, 07:52 PM
Utah - ATV/UTV Heaven
---
We are on vacation traveling across Utah. Very nice state with some good looking towns; St George, Hurricane, Richland, etc. Salt Lake City is very good too.
So I'm traveling I70 and I spot three side by sides on a gravel road running parallel to the interstate. I was 65 and they were faster than me. I see them pull up into a park area where their trucks and trailers were. I didn't see, but I bet they had street legal license plates.
Then I stop for fuel. This UTV turns left and drives up to the convenience store. I bet they were out for a nice drive on back mountain roads. See photo. I bet this scene is ubiquitous to folks living in Utah. We all have to get used to these goofy looking vehicles licensed for street use.
I have not seen any street legal ATVs on this trip yet. I'll soon be in my home state of Colorado where there are no street legal laws, just local jurisdictions that establish ATV routes or zones. All the states around Colorado are street legal ATV states. I guess I moved to the wrong state.
David

04-29-2018, 02:44 PM
---
Very common where I've ridden in the towns around the Paiute Trail. A lot of the towns don't require anything more than regular ATV lighting to use their roads to get gas, food, and lodging. Very friendly. We left on a Friday the last time we were out there and there were literally hundreds of motor homes and campers with ATV's and UTV's loaded and ready to ride.

05-02-2018, 08:35 PM
---
Here is a quick link to the Paiute Trail system in Utah. If you want to take a shortcut back to camp, you can legally ride on the roads.
Colorado could be as good with a street legal law.
We (ATV buddies) were talking just today over coffee how some Colorado trail heads have very limited vehicle and trailer parking. So you drive for 90 minutes only to find out your chosen trail is busy. But next to the trail are plenty of dirt roads with similar scenic views. Maybe less wash outs, boulders, creek crossings, and steep uphills; but scenic none the less and the day is not spoiled.
David
https://www.visitutah.com/things-to-...ute-atv-trail/

05-04-2018, 07:57 PM
---
Here is a quad I spotted in Green River, Utah. It is so fun for me to see quads and UTVs driven on public roads in Utah.
I know full well that there are fellow ATV hobbyists who wouldn't consider riding their ATV on a public street. The machines are not designed for street use with their low pressure tires, unstable stance, lack of a rear differential, rather noisy muffler, etc. And I know full well that there are fellow hobbyists who much prefer a back country trail to a ride on public roads to the gas station.
I appreciate all that. I'm lucky to have a nice ATV in the garage. I'm lucky to have many mountain dirt roads in my area. I like to ride my machine. My trail ridding opportunities are limited and the trails are busy here. I will only do a trail ride with a buddy, never alone. My machine sits in the garage way too much.
I just hope someday Colorado will follow suit of the surrounding western states and make ATVs and UTVs legal on secondary roads 45 mph or less. What a boon it would be to our hobby here in Colorado. And I bet some of you would visit here to spend a week riding trails and roads.
David

05-27-2018, 08:09 PM
---
Last year a bill was passed in Salt Lake County, the largest county in Utah that allows all street legal ATVs/UTVs to be driven on all public roads with a speed limit of 45 mph or less.
You see people taking their SxSs to work.
The one thing people need to remember that once it becomes street legal and has a license plate on it it now becomes a registered vehicle and in Utah you must be at least 16 years of age and posses a valid drivers license to operate it - on or off the road.
There are several, I mean LOTS of towns across Utah that allow even the unlicensed ones to be driven on every road in the town with exception of state HWYs.
Marysvale Utah located in the heart of the Paiute Trail was the first town in Utah to allow them to be operated on all the streets in the town.
Utah has over 76,000 miles of roads/trails for OHVs across the state.
We are a gun friendly state too.

05-27-2018, 08:25 PM
---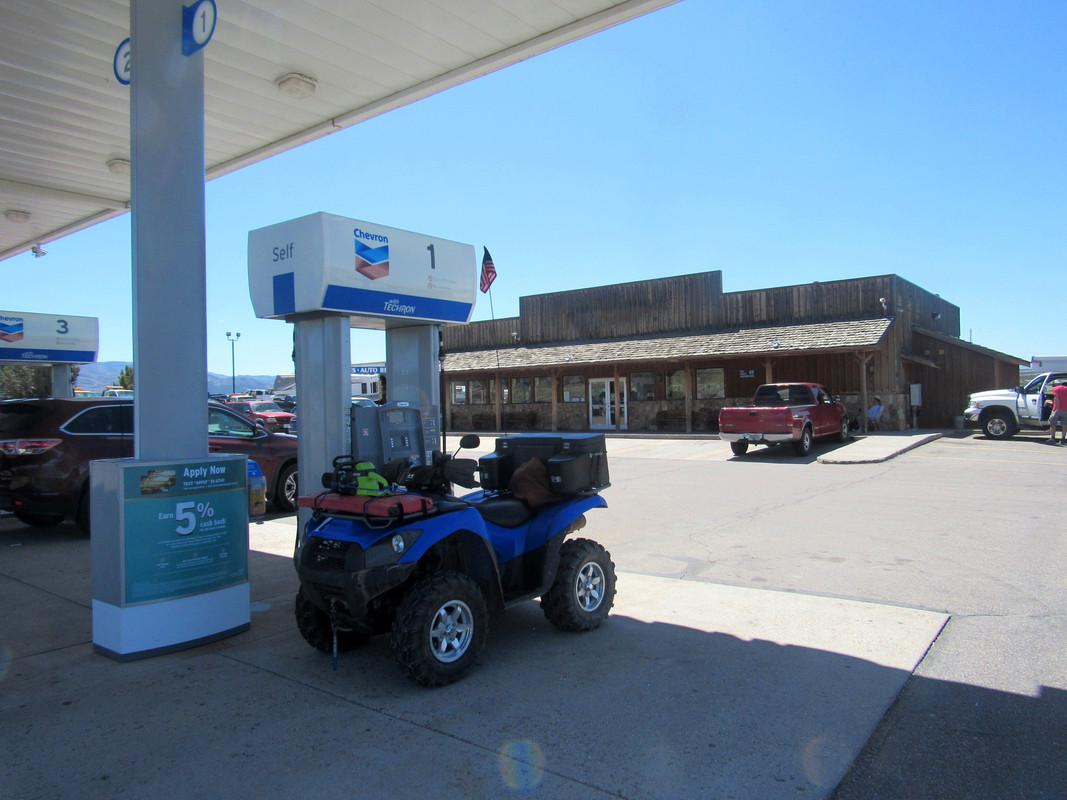 Here I am filling up at a Chevron that is located on a state HWY. I'm not street licensed and I don't get bothered.
But then I don't do stupid things while riding in any town.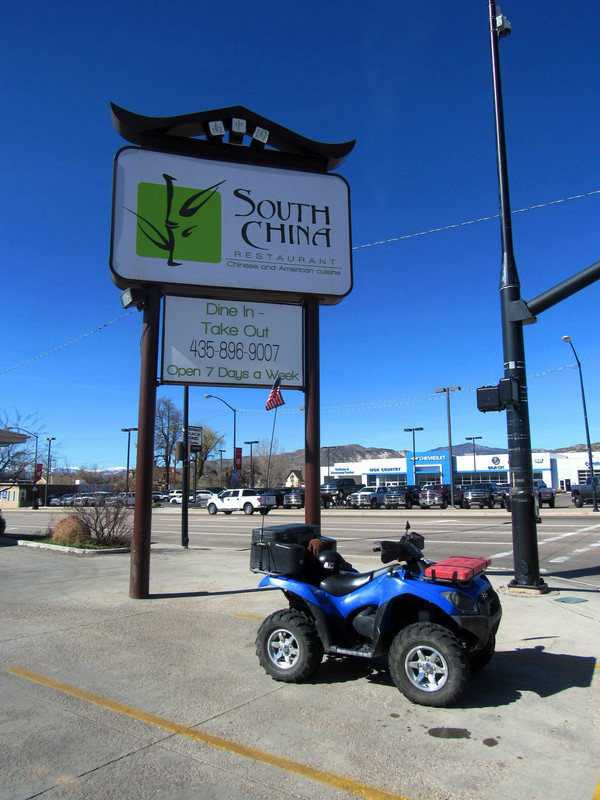 Stopping at my favorite restaurant in Richfield to grab a bite to eat before hitting the trails.
Every street in Richfield is OHV friendly.
I love living here.

05-28-2018, 07:05 AM
---
Hi Specta: We drove through Richfield on our way home from vacation last month. The wife and I enjoy traveling the country with our camper in tow.

I have a good friend who grew up in Salt Lake City. He speaks fondly of his childhood memories and the church community we was part of. Utah has a lot of interesting terrain and several national parks. It's a scenic state.

Coming from the west, I was struck by the clean, modern cities we drove through on I-15. Mesquite, St. George, Hurricane, Richfield and many others. I have a sense of people in Utah being of high caliber and hard working. Their communities reflect this to me. Folks were very friendly to us during our few days in Utah. I think I would like living in the state. I'm going back in August to the Bonneville Speed Trials on the salt.

All that said, Utah is a great state for ATV/UTV ownership. I'm sure there are a few isolated "bad situations" involving ATV/UTV operation on public roads just like there are for motorcycles, sports cars or any other vehicle; accidents, reckless driving, and the like. I do not perceive mass casualties or property damage due to the Utah ATV street legal law.

David

05-28-2018, 07:29 AM
---
thank you, that's a lot of really nice words
No real issues as far as I know so far.
I was born and spent most of my life in SLC, I just never grew up.
I moved here almost 10 years ago. I live about 25 miles west of Richfield in Fremont Indian State Park.
Utah is a great place to live filled with such beautiful and diverse topography.
Come and visit us again sometime. Bring your ATV and take some time to explore the Paiute Trail.

05-28-2018, 03:24 PM
---

Just kidding. He does have a habit of leading out of towners on off camber trails to see if he can thing the herd.