SS Camaro - Track trips, build pics etc.

09-25-2018, 02:13 PM
---
So, after further testing the scavenge pump is a success, no more smoke. Everything electrical is wired and working including all the gauges. Decided to throw the seats and harnesses in. I also made rear seat supports that are welded to the cage. The seats are super sturdy now with no flex. Man sitting in here it doesn't even feel like my car, it's so different. I think I only drove it once with the kirkeys before and it didnt even have seatbelts at the time.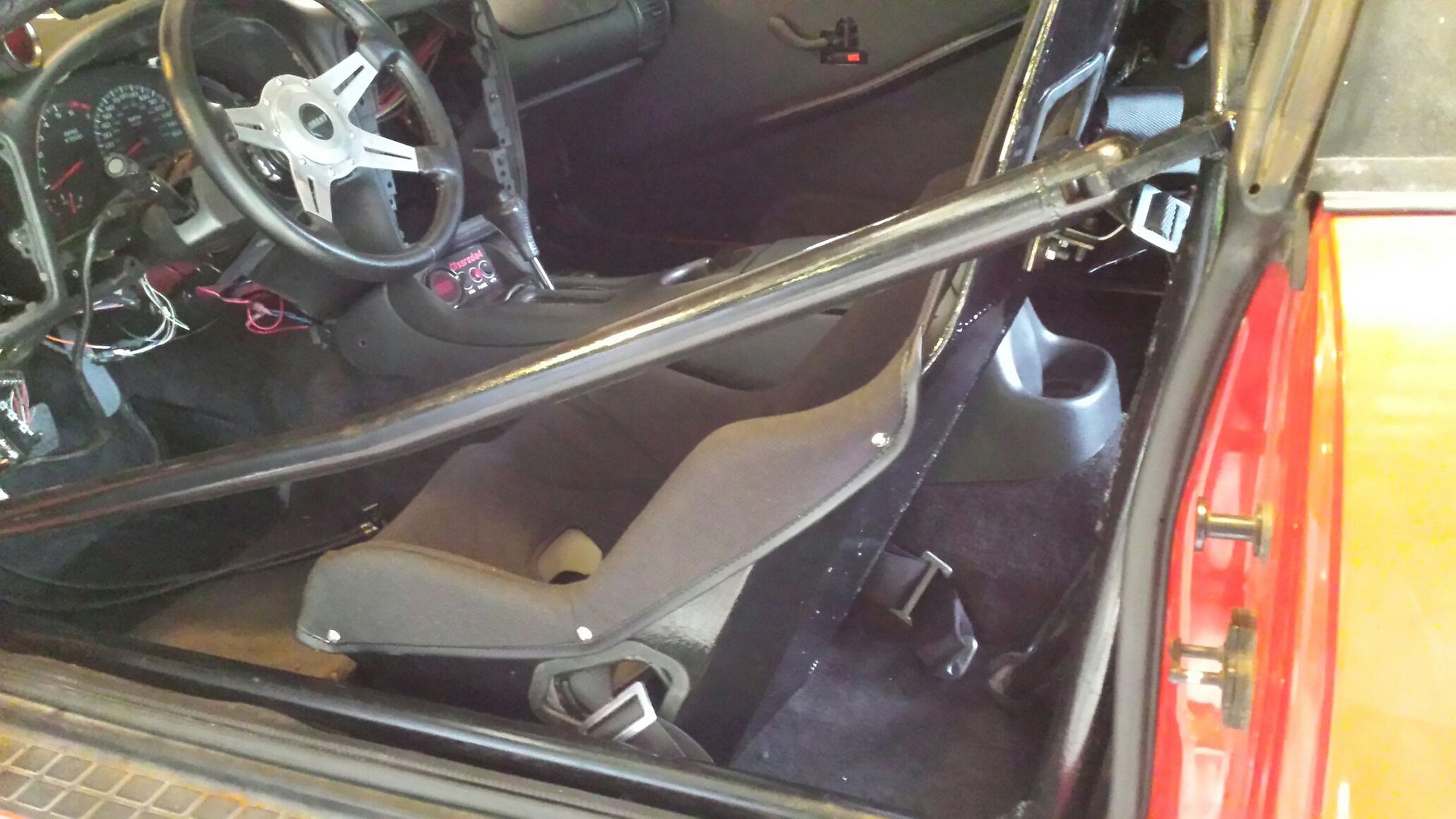 03-09-2019, 09:48 PM
---
Hot damn we got some good news finally.
Old Hoosier slicks on the left. 28x10x17. On the right, M/T et pro bracket radial 28x10.5x15.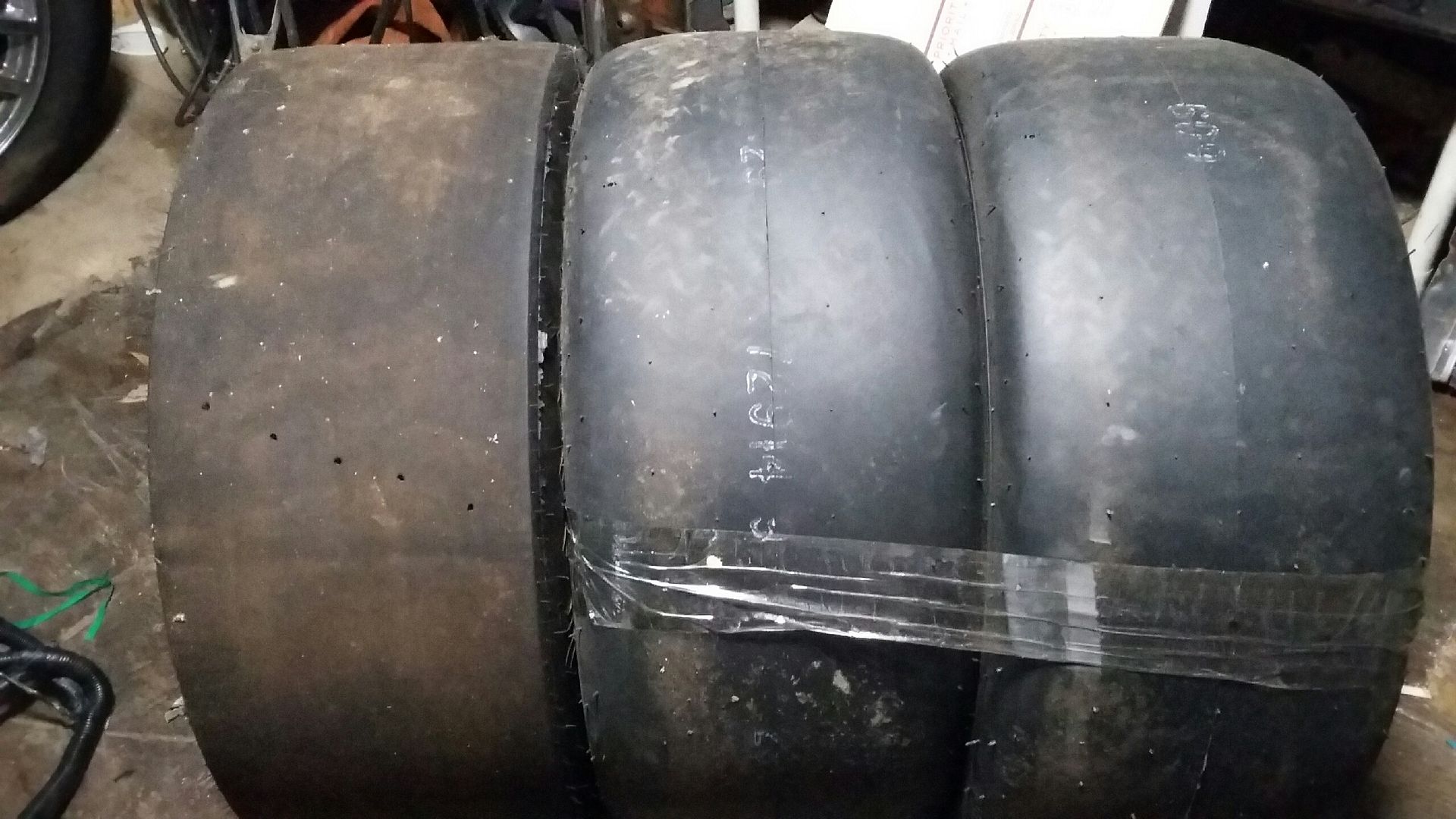 On the way:
More to come..................

04-07-2019, 07:18 PM
---
Small update but feels like a mountain to me. Brakes are bled and she's moving under her own power. I've got a few things lined up, brakes feel hard I'm not sure if the booster gave out, carpet, finish putting the interior together, bolt the battery back down, and a toon. Still waiting on the weld wheels also.
Built a welding car for my tig and new tiawanese plasma cutter.
Hoosier slicks are sold so I figured I'd hang the 10 spokes up in the garage as decoration. Always liked these wheels.

04-11-2019, 08:03 AM
---
Came home to two boxes sitting in the garage
Put a little dishwashing soap and water on the inner bead and it slipped right on.
I decided if i feel any vibes from them Im gonna insert some balancing beads through the tire stem. Until then we are gonna roll like this.
Fronts are gonna have to wait for a bit. But for now she should hook pretty well.

04-20-2019, 10:12 PM
---
Another small update but feels like a mountain to me. First thing is first, battery back in the box, bolted down, with carpet under it.
Gonna add some carpet over the trans tunnel and wheel tubs soon. That dont win races so its on the backburner ATM. Got the car on the ground and had no brake assist. Only thing i could figure is the booster was out which made no sense. Bought one online, swapped it out and now i have power assist again. Didnt figure out what went wrong with the original though.......
Waxed the wheels for easy cleaning.
Looks odd with 15s and 18s but whatever. MSD 2step on the way and I think Im gonna add a 110v outlet for laptop charging for tuning.

04-21-2019, 08:34 PM
---
Some HPTuners fuckery going on today. The booster is hooked to the manifold (for vacuum) and the idle has been funky. New booster, time to get the idle dialed in. That's done. Previously, it would foot brake to about 3k and 0 psi and the tires would go up after that. Started reducing timing and the RPMs got way up there, so did the boost. I did this in the garage. I'm impressed with what it can do on the foot brake, 10 psi is gonna make a heck of a launch. More foot brake tuning when the 2step gets here.
Purple MAP is accurate.

04-21-2019, 09:55 PM
---
The mismatched wheel sizes might not look so bad if they were the same color and style, but that doesn't win races.
Under the carpet the part underneath the battery box looks like a bathtub with most of one side missing. Those parts were easy to handle so women usually got the job of putting them in a fixture and welding 2 nuts in them and a metal strap on the bottom, or something like that. It's hard to remember exactly after 15 years or so. Then they went up a conveyor to the main line to mate with the floor pan in front of it and the side rails under the pan. I ran almost every job in the press room then almost every job in the metal assembly department before I had to quit, so I made a little bit of everything. When we made deck lids for Cadillac Sevilles the hole for the CHMSL (Center High Mounted Stop Lamp) was cut out by a robot with a laser, and the metal bracket behind the hole was welded on by another robot with a laser. Nothing else interesting ever happened at work. Other than obvious body panels, a lot of the parts that I made I didn't know what they were or where they went. Then when I saw a car up on a lift I would look up and think, oh, that's where they go.

04-26-2019, 11:03 PM
---
Good to have friends in low places. She is "legal" again for tuning. Just need to put this on the windshield.
2step is here......but do i need it?
Hit near 15psi at 4200+ rpm on the foot brake in the garage. This seems insane to me, and I have 7lb springs in the gates so how, why? I'm confident i could get that even higher. I have so many questions at this point.....are the gates opening, will i be looking at the sky on launch, did i just waste $250 on a 2step? The future looks exciting.
110v inverter on the way to aid my laptop battery while tuning.