Red Cone Merit Badge

07-19-2018, 08:17 PM
Red Cone Merit Badge
---
My ATV friends have wanted to take me up on the Red Cone - Webster Pass trail for a long time. This trail is rated "difficult" in sections. It is not great for those who fear heights, but I don't fear them particularly, just respect them.
The ride to the tree line was difficult in terms of the big boulders and washouts. My biggest trail riding challenge is learning how to ride up the side of a boulder with one side of the machine only to find a hole in the trail on the other side of the machine. My ATV gets pretty tippy in these situations.
We climbed a "alpine tundra" trail above the tree line up to the top of Red Cone. It was a steep climb. We took a couple of the obligatory photos. The winds were 40 to 50 mph up there. Jet stream. Then we road the steepest descent I've ever been on. I estimate it at 45 degrees or so. It was about a quarter of a mile long. The engine brake on my Can Am worked perfectly checking my speed without me using the brakes at all. This was also the case for my friends Arctic Cats. You must pay attention as the sides of the trail are pretty steep. It is easy to slide the wheels on the loose gravel. I made it down okay.
Then we rode the "ridge trail" across the top of Red Cone. Again, pay attention as wondering off the trail would be a disaster on one side. This trail also had some pretty big boulders to navigate on the downhill side. I knew it was tough when my friend slowed to 1 mph to get over them and not end up on his nose. I followed his tracks as he has 25 years of experience in the mountains. This was the most difficult part of the trail for me.
Finally, we rode back down to the valley on the "shelf trail", steep drop off on one side, steep incline on the other. Down, down we went and back into the trees and out of the winds. Better.
Overall it was a spectacular day for this newbie. I earned the Red Cone Merit Badge. This experience helped my experience in trail riding in the Rockies.
David

07-20-2018, 09:02 PM
---
Spectra: I like your signature showing hours, miles and last ride data. I have 300 miles in 40 hours for about 7.5 mph average. The Red Cone Webster Pass ride was slower due to the rocks and steep descents. Oh well, I ride like I wanted to get back home unhurt if you know what I mean.
David

07-20-2018, 11:11 PM
---
I'm not a fast rider either. I'm seldom in a hurry.

There are times I might travel 20 miles or more on a graded gravel road to reach the trail I want to ride and that always increase my average speed.

07-21-2018, 12:43 PM
---
Great pictures, David. Starkly beautiful.

Been on many trails myself where I questioned my sanity. Worse comes to worse, on boulders and off camber situations, have someone grab onto the racks or the grab bar on the back to ease down an obstacle.

07-21-2018, 08:06 PM
---
Stark is right. There aren't any trees above about 11,000 feet around here. It's cold, windy and barren. Oh well, certainly different than a Minnesota lakeshore in the summer.
I just haven't figured out how to get over big rocks going down hill, especially when there is a hole after the rock. This lousy picture is from the cover of Dirt Wheels magazine. There is a lot of weight on the downhill front wheel when landing. I thought it depicted what I'm talking about pretty well.
We have used the winch to pull my friend off a big rock. He got it hung up like a "turtle on a fence post" and was going nowhere. He couldn't dismount as the ATV was pretty unstable on this steep ascent. The winch pull got him forward enough where he got some bite and bounced off the rock. On we went.
David

07-22-2018, 08:47 AM
---
Just give it more throttle.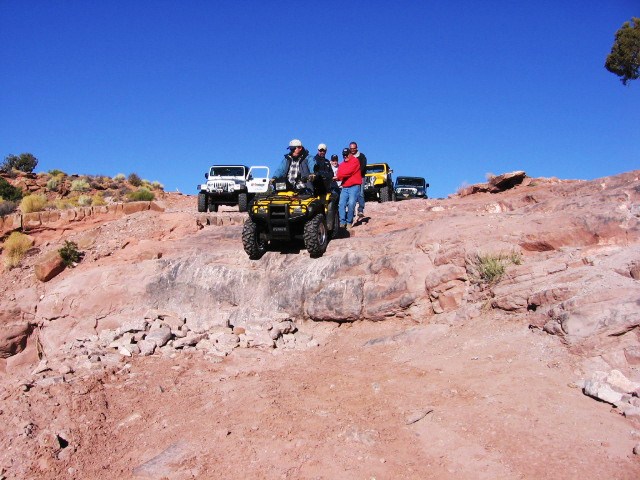 This was in Moab Utah back in Nov 2007. They guys lined up behind the ATV were holding a tow strap so the wheeler didn't roll over frontwards.
When we hit the bottom the machines were literally vertical and we had to give them a little throttle so the front tires would drive forward so the back wheels could contact the ground. It was pretty cool.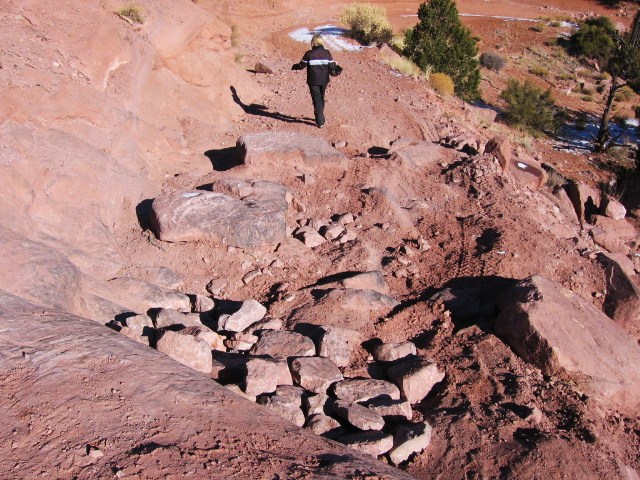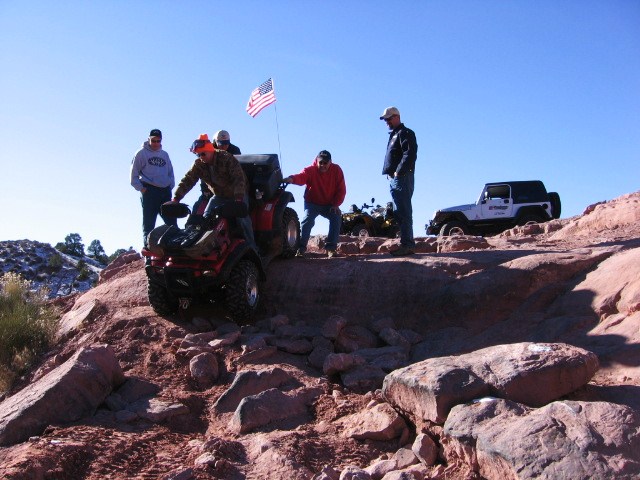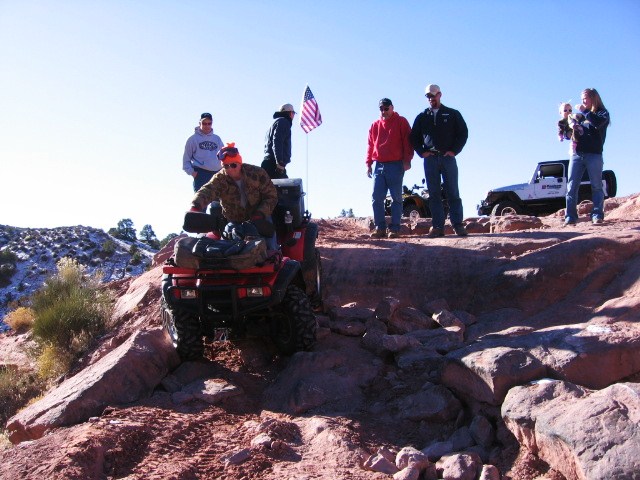 This was another pretty big one but not as bad as the previous one.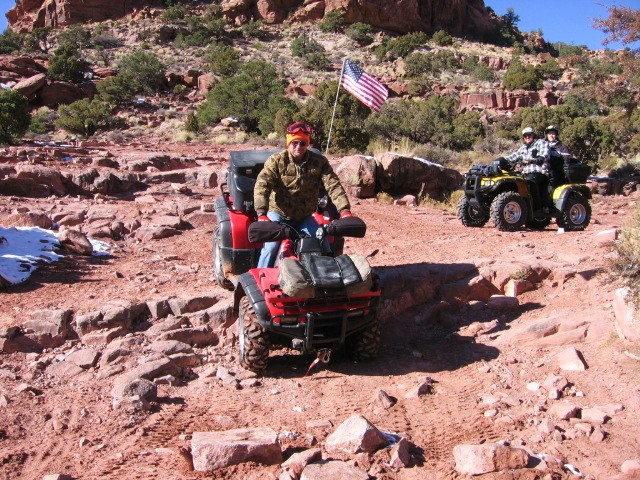 Then there were just the easy ones.