Trail essential gear

10-14-2018, 03:17 PM
Join Date: Oct 2018
Location: Missouri
Posts: 48
Likes: 0
Received 0 Likes on 0 Posts
Trail essential gear
---
This post is about what I bring at a minimum on trail rides. I'm always looking for good ideas on trail essential gear so add your pics to the thread!
This is just the basics. Unless I'm out for days, the center of my box gets a soft cooler with food and drinks. If I'm out for more than an overnight trip, I don't bring a cooler but do put my food in the same place.
If you have specific questions about a specific piece of equipment, let me know.
Front of the ATV. I have a Garmin GPSMAP64st. Great GPS. I haven't had it too long but love it. I have topo maps from GPSFILEDEPOT uploaded to it. I can get about a day and a half of full time riding use out of it on a set of batteries(turn it off at night). To the right is a Baofeng handheld radio. I have it loaded with FRS, GMRS, and MURS freqs. TECHNICALLY you aren't supposed to use those radios for that but we just use it for bike to bike comm and we don't do anything disruptive with them. I need to upload NOAA frequencies for weather reports. I can also use them to listen to FM radio if we want some music.
Box on the back of ATV. Love this box. It's waterproof for anything other than immersion and essentially dust proof. I have mounts on the side for a couple fuel cans although I don't have a pic of that at the moment. I have an external antenna on the right side for the Baofeng radio in case I need some more range.
Look inside the box. I have a tarp on the bottom just in case. Think it's an 8x10. Also keep some 550 cord for tying things up. You can see bug spray and a can cooler (cold beer on the trail is delicious!)
Inside the lid of the box. I keep a stocked first aid kit and my trail gloves. The gloves are just Harbor Freight gloves. I like them. The first aid kit is held to the lid by velcro. If I need it I can just grab it and go.
Inside the box on the right side. I have a 12 volt port inside connected directly to the battery (fused). That way I can charge phones, radios, and batteries from the ATV battery. The antenna cable is in there too.
Camp stool I carry with me. For longer trips I bring an actual chair for more comfort. This is nice for short day and overnight trips.
Inside one of the water resistant bags. Stove, lighter, matches, and eating utensils.
Inside the other bag. Extra Eneloop AA batteries, radio charger, AA battery charger, 12 volt cord
Inside the two coffee cans. One has toilet paper (essential IMO), bottle of hand sanitizer, and wet wipes. The other coffee can has a small tea type pot for heating water. Need to add some more matches and maybe another lighter to it. Coffee cans make really nice equipment holders.
Cutting tools in the box. I also carry a pocket clip knife on my person and usually carry a Leatherman Wave multi tool on my belt.
Tool kit. Bag is a Condor Tactical bag. Keep screwdrivers, two adjustable wrenches, 1/4 inch ratchet with 8mm, 10mm, and 12mm deep sockets. Couple hose clamps, WD40 (great for drying off electrical stuff), zip ties, electrical tape, some small side cutters and needle nose pliers, batteries for my winch remote, small set of jumper cables, tire patch kit, small air compressor, and a couple heavy trash bags.
Inside the first aid kit. Usual band aids, gauze pads and wrap, gloves, tape, antibiotic ointment, CPR mask, tourniquet, shears, Israeli pressure dressing, and at the bottom of the picture you can see small zip lock baggies. I buy packs of those baggies and then fill them with OTC meds such as Benadryl, ibuprofen, and aspirin, and then package them in small dose size amounts. I write the medication and expiration date on the baggies with a sharpie marker.
That's pretty much it. I strap the rest of the camping equipment to the front when out over night.

10-15-2018, 09:51 AM
Join Date: Aug 2013
Posts: 1,985
Likes: 0
Received 0 Likes on 0 Posts
---
You have just about thought of everything... I have actually tonned my list down. i usually have my gps used to carry radio but now with cell phone coverage every ware no need unless we are doing trail work. I have a huge collection of tools including a full selection of metric and standard wrenches, multi shovel tool, axe, chainsaw, gas and oil for saw, watertight container with extra fuses, spark plugs and flairs, 50+ tire plugs and patches, straps. extra winch line for long pulls, and last but probably not least a chunk of coat hanger for repairing my winch rope. No ware near as nice and organized as yours.. Used to carry fire starter bricks but found they were always to damp to light. Now i just carry a old pop can and fill it half way with fuel and it will light up the wettest wood i can find..

10-16-2018, 02:46 AM
---
That's a great idea having the first aid kit velcroed inside the lid. WD-40 is an abbreviation for Water Displacement, 40th formula, but I haven't used it much for displacing water. It's always good to have for that and as a lubricant too. I have a lighter, pocket knife, and multi-tool on me anytime I'm wearing pants. I carry a fraction of the gear you do on a regular basis when I ride; T.P., OEM tool kit, first aid kit, 2.75 ounce "air compressor in a can" that I used to carry on my bike and scooter, tire plug kit with CO2 inflator, "Short-Kutt" pocket chainsaw, emergency poncho, LED flashlight (free from Harbor Freight), and I recently added a space blanket. That all goes in my rear compartment. The ATV's rear compartment that is. The front compartment under the rack usually has a 12" machete, my wallet and keys, and sometimes a jacket and snacks like jerky. I have a cooler full of cold Powerade on the rear rack and nothing on the front rack.
My friend who I always ride with carries a lot of stuff in his rear cargo box. He bought a Pocket ChainSaw too after we had to use mine to cut a tree across the trail that was too big to ride over and there was no way around. One of those folding saws is way too short to cut what we had to go through. The tree was on an angle with a lot of room under one side and I looped the saw under it so I could cut pulling straight up and down. Several of us took turns but we got it cut in 2 places and rolled the the center piece down the hill out of the way. The pocket chainsaw will cut just about anything my 30" bow saw will plus some things the bow saw can't. The metal can is about the same size as one for smokeless tobacco. My saw only came with the finger rings in the can and not the "deluxe" handles, but it doesn't take long to cut 2 sticks to use for handles. I used to have a pair I made from a broom handle. I don't recommend many things by name but this is an exception. This may be the best $29.95 you ever spend, and no, I don't get paid to endorse them.
https://supremeprod.com/pocket-chain-saw/

10-16-2018, 07:48 AM
Join Date: Oct 2018
Location: Missouri
Posts: 48
Likes: 0
Received 0 Likes on 0 Posts
---
The saw is a good idea. I don't like to carry a chain saw. My little saw is good for cutting firewood but would not cut a larger log blocking the trail. I'll have to pick one of those up.

10-16-2018, 01:23 PM
---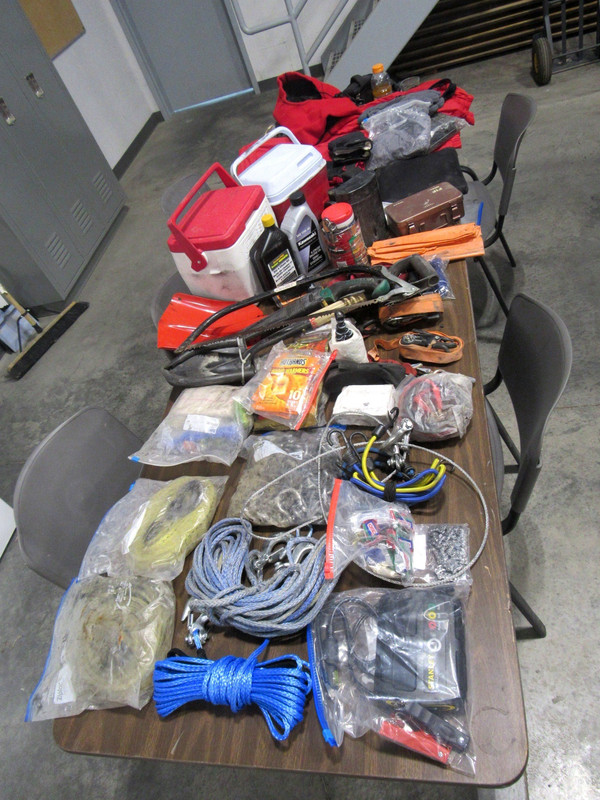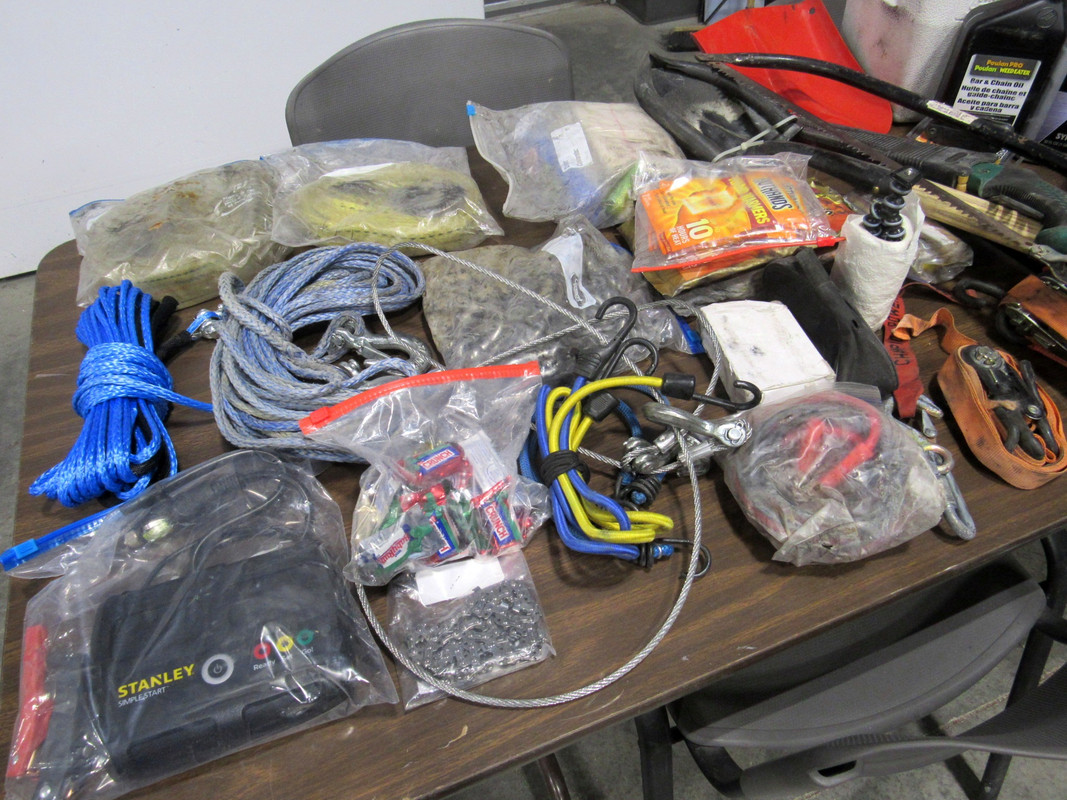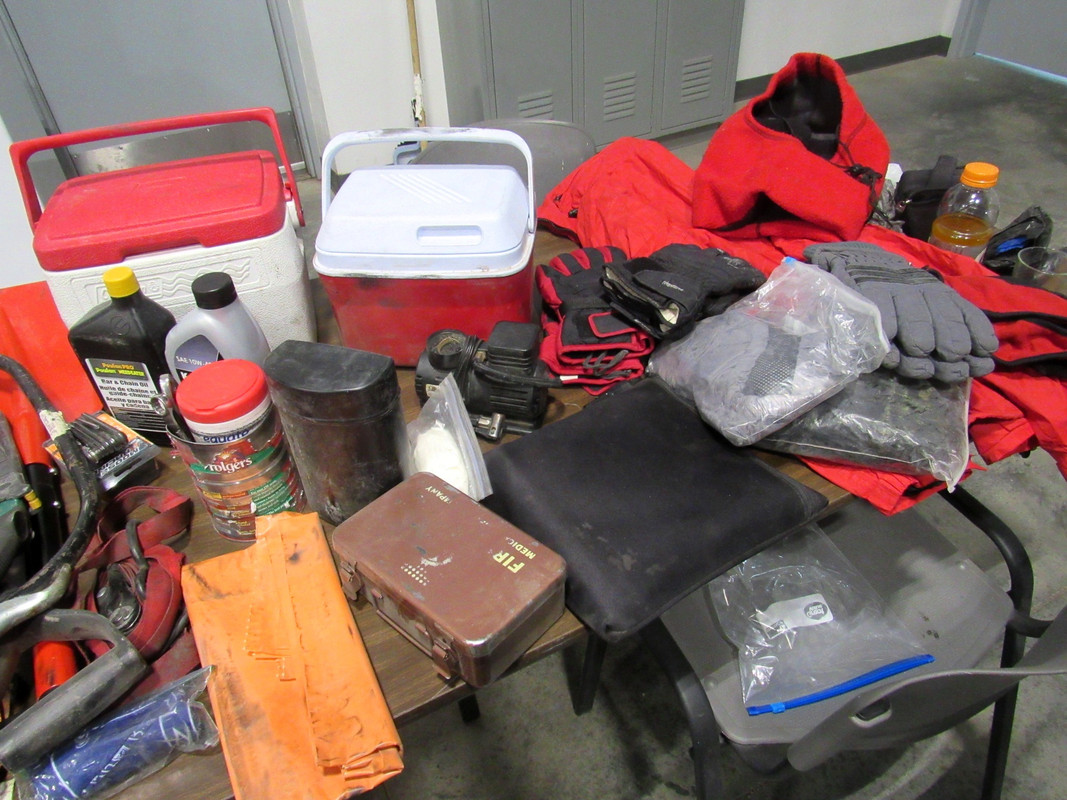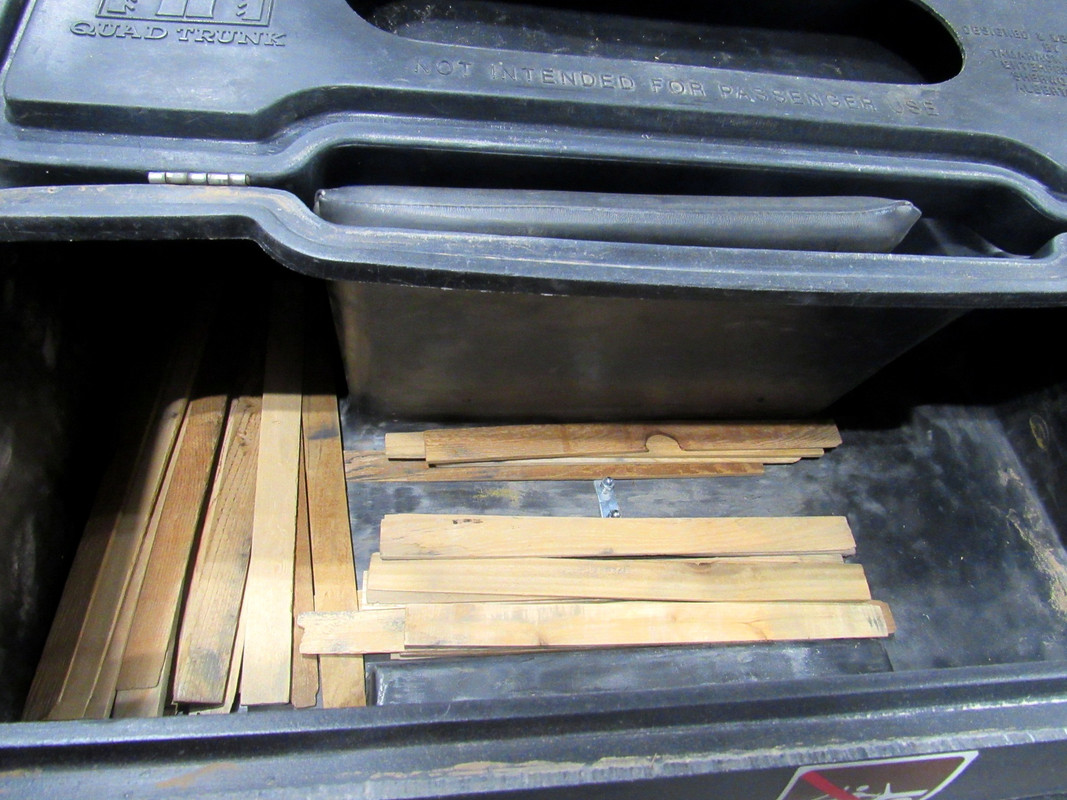 It would take me too long to list what I carry with me. I also carry fire starters and line the bottom of my box with door shims for kindling.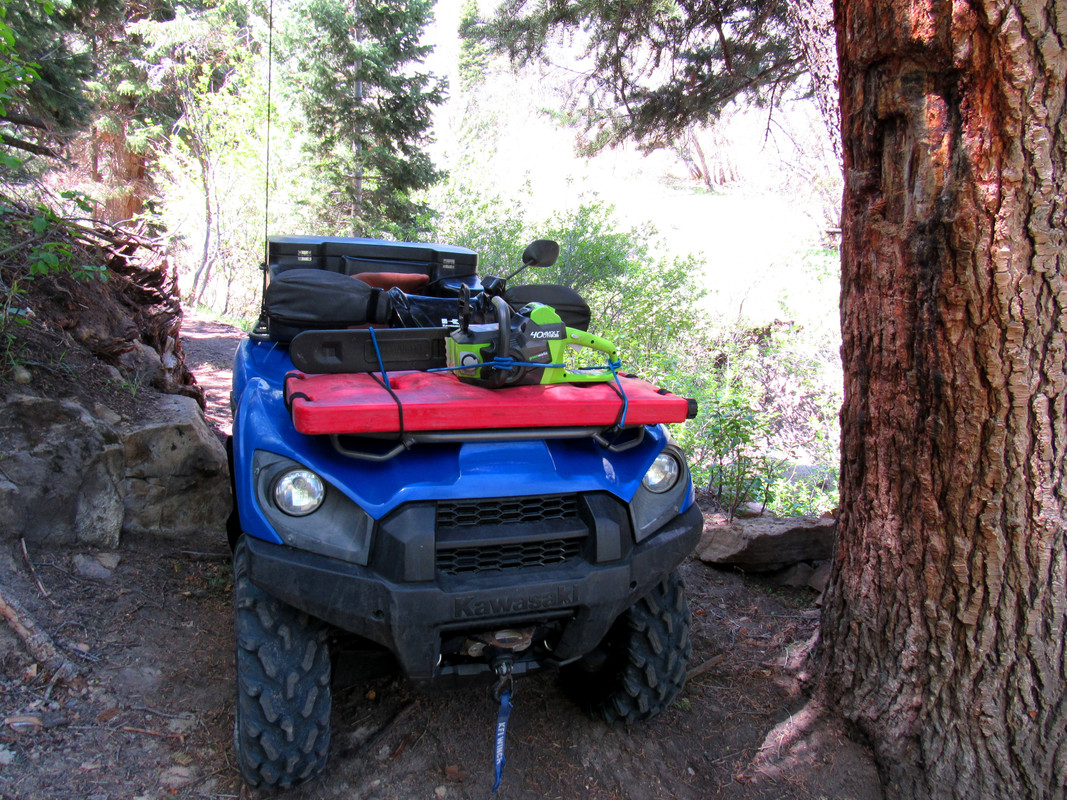 I also carry 4 extra gallons of gas and my 40v chainsaw. Gas ones are just way to messy to take along.

10-16-2018, 10:47 PM
Join Date: Oct 2018
Location: Missouri
Posts: 48
Likes: 0
Received 0 Likes on 0 Posts
---
Be disruptive with it and yes, the FCC will come down on you. Use it in a manner that doesn't cause any disruption and it'll never be a problem.
Where we ride, no one uses those frequencies. There is no one to cause issues with so the FCC does not care. We simply use the frequencies for what they were intended for....short range comm.
You are supposed to have a license to use GMRS. Any idea how many people go to Wal-Mart, buy a blister pack of radios that have GMRS frequencies, and use them without a license? The FCC doesn't care as long as you aren't disruptive.

10-17-2018, 12:29 AM
---
Taking some nice dry kindling is a good idea. I've built fires on two different rides. Once when I ran out of gas and my friend who still had gas went back to gas up his quad and bring a can of gas back to me. And the other time was when I broke a tie-rod. Once we got my quad off the trail my friends continued on back to the parking lot and one of them brought my truck and trailer back to haul my quad out. The first time it was already night time and the second time it was cold and dark by the time he got back. I had "daytime" clothes on and wasn't dressed for the cold of night. I laid there curled up to the fire and stayed as warm as I could with a small fire. I didn't want to make a big one and not have enough water to drown it.

Some of my friends have little six-pack coolers for beer that fit in their rear cargo boxes. When I bought a big cooler it came with one of those inside it so I gave it to one of my friends. Now he takes 2 six-packs in hard coolers and uses his old soft coolers to keep his air compressor and other things organized. I can barely get 2 quarts of Powerade in the small cooler I still have and that's not enough for an all day ride. I've been using a bigger cooler almost as long as I've been riding and haven't seen a cargo box yet that it will fit in. So I have a cooler on my rack and no cargo box. It fits nicely between my backrest and 8" high rack extension. I stand 6 quarts of Powerade in it every time even though I know I won't drink it all, because it keeps them from sliding around. I have to hit the whoops hard and fast to get them to bounce up and flip over. There's room for the younger guys on sport quads to lay 3 of their bottles on top of mine, instead of carrying them in backpacks all day. Sometimes 2 guys put 2 bottles apiece in and I'll take a bottle of mine out. If they each only put one in I keep all six of mine in and put an old towel on top of theirs to take up some space.

That's one thing I forgot to list that I always take. A raggedy old bath towel. It keeps things in my rear cargo compartment from bouncing around too much, and it's good for wiping rain off the seat if I need to. One time when it was just me and one friend riding he forgot to pack his towel. When we stopped for a break he found that some oil spilled from a bottle in his cargo box. He tore a strip off the end of my towel and wiped up the oil, and when he was done he it burned up to get rid of it.