Looking for a good quality pickup truck camper

09-14-2018, 01:45 PM
Join Date: Dec 2004
Posts: 97
Looking for a good quality pickup truck camper
---
I'm looking for a good quality short bed pickup truck camper, <3100 lbs, or thereabouts. Payload capacity of my F350 is 3960 lbs. What brand is good? The Lance short bed models don't accept a generator. Host campers are all too big and heavy for a SRW truck. What about Arctic Fox, Adventurer, Real-Lite, Eagle Cap, Palomino, Travel Lite, Wolf Creek, Cirrus, or others?

11-26-2018, 06:53 PM
---
Well, there's your answer.
About how much does it weigh?

11-26-2018, 10:34 PM
Join Date: Dec 2004
Posts: 97
---
Dry weight is claimed to be 1980 lbs. But that doesn't include the mandatory "wolf pack value package" that has options that weigh 310 lbs, the DC TV, the 170 watt solar panel, a 2000 watt inverter, the larger dual 6 volt batteries I upgraded to, the dual propane tanks, and the air conditioner. Plus you would need to add for water and basic camping supplies. I am betting wet weight is going to be close to 3000 lbs. The truck seems to do just fine with it. I think it drives about 1000 times better than the class C motorhome it replaced.
The truck, camper, and trailer in that picture climbed a ten mile section of 10% grade on I-15 on the way home from that trip, where the speed limit is 80 mph. And it climbed the whole grade in high gear, not even needing to downshift. 935 lbs feet of torque is pretty nice..

11-27-2018, 03:36 AM
---
Yeah, it must be nice. I've never had a diesel or HD truck, a camper, or a motorhome. I've slept in the back of my truck with a cab-high fiberglass cap on it, the kind that makes it look like an SUV at first glance. The fabric headliner on this one keeps it from sweating from your breath condensing on the roof which I thought was nice. But I started tent camping so I have room to move around. If I'm going away for more than a night or two, it's tent time. Otherwise there won't be much stuff back there and I can sleep in the back. I have my air mattress and sleeping bag in there right now. Anytime I don't need to haul something it's in there. I climbed in back and slept at a rest area before when I was too sleepy to make it all the way to my destination too. I can do without a new truck and a camper but I keep looking at that RZR wishing I had one and a good place to ride it. I bet it lives up to your username.

11-27-2018, 07:56 AM
Join Date: Dec 2004
Posts: 97
---
Thanks. The RS1 is amazing, best personal use off road vehicle I've ever owned.

11-27-2018, 02:11 PM
---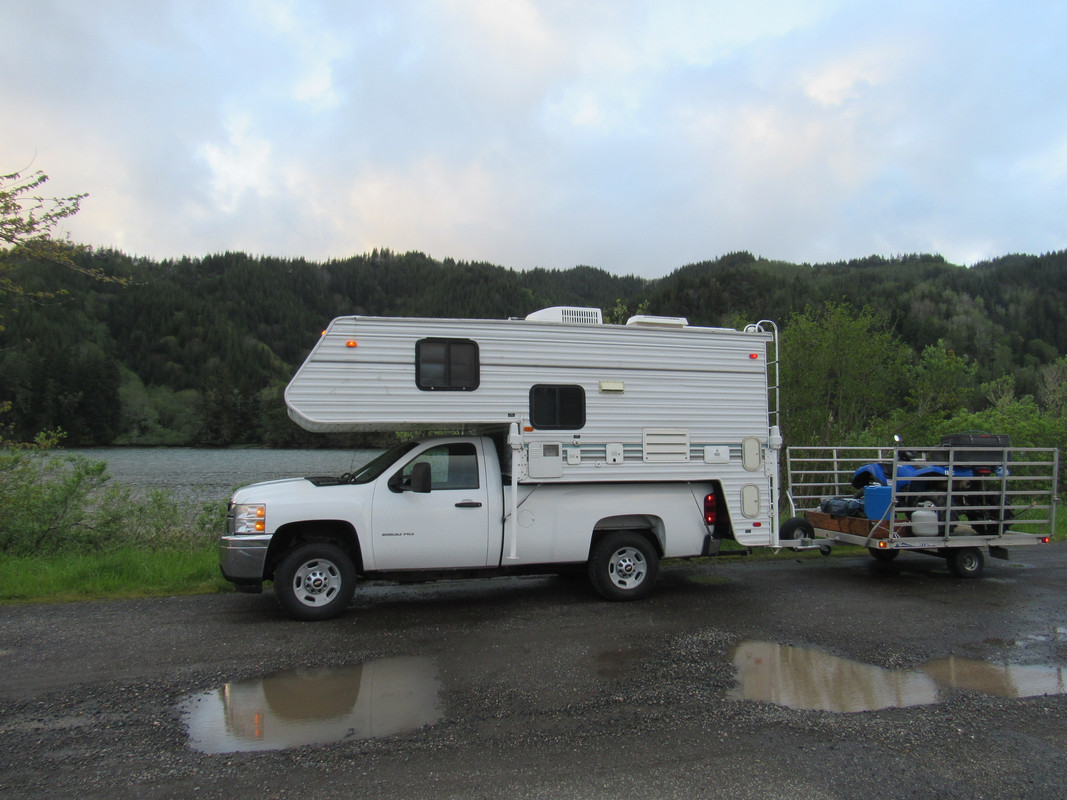 Nice looking truck and camper. Does it have the built in generator like you were hoping??
A few years back I almost bought a Lance 921 (8' bed) with an onboard generator. My friend in SLC that was the Lance dist here in Utah told me a few years ago that that 921 was the "smallest" camper he knew of with a built in generator.
I love my camper. It weighs in at 3800 lbs dry. My truck isn't a diesel but my trip down the OR and CA coast last year impressed me for the size of the engine it has. Even coming up Donner Pass I was impressed.

11-27-2018, 06:51 PM
Join Date: Dec 2004
Posts: 97
---
Nice set up Specta. Surprising how close that over the cab section is to the front bumper on a regular cab pickup truck. I'll bet the weight balance is better that way though.

I don't have a generator in mine. It has the compartment for the generator, and it is wired for a generator, but the dealer didn't order it in with one. I plan on adding one next spring, but haven't decided if I want to get the Onan Cummins LP powered generator that fits in that compartment, or just get a Honda generator and store it in the generator compartment. I need to do a little research on that one, because both options have their + and -.

11-28-2018, 11:21 AM
---
I've had travel trailers and I've always wanted a truck camper and I love it. Its a 4-season camper so there's added insulation and the tanks are heated.
Truck campers aren't a second vehicle like a motor home and there's no extra wheel bearing to pack, another set of tires and no brakes to worry about and they cann go places the others can't.
Thanks, not many people realize that. I don't have air bags or helper springs. The center of the camper is a lot closer to the center of the truck than extended or crew cab trucks. I bought that truck for a bigger camper.
That's awesome that you have a place for a generator. I have a gas and a propane generator. I much prefer the propane generator. Never a carburetor problem and it will run for 10 hours off one 5 gallon bottle of propane.
I like the idea of the generator being in its own compartment rather than divorced from the camper.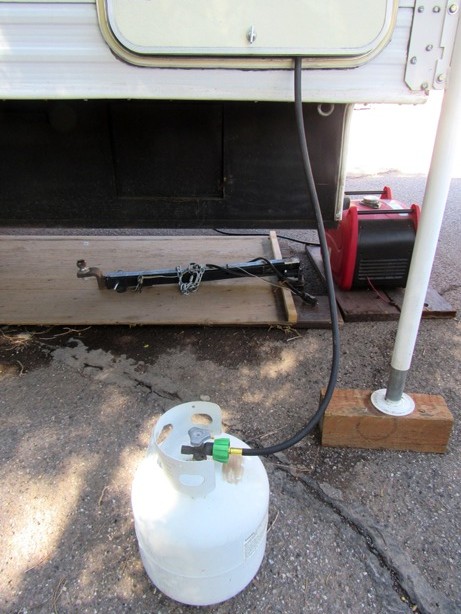 I had the local LP distributor make this hose for me. Its tee'd into the LP fitting for the camper tank. Horizontal tanks are expensive and I have several of these tanks. It makes hooking up a back up LP tank really easy.

11-28-2018, 08:43 PM
---
I saw a video somewhere of a guy who had a camper with manual jacks and he got tired of cranking them by hand. Electric jack conversions are too expensive so he used a cordless drill with an adapter. They also make adapters for scissor jacks on trailers. Too bad nobody thought of that when I was a kid jacking up a 23 foot long trailer.