No mud. Deep snow this time.

02-23-2015, 05:20 PM
No mud. Deep snow this time.
---
Had a chance to do a last minute decision ride up in Warren, NH on Saturday. I was loading my quad on the trailer when it was -7 degrees out thinking I've really gone over the edge sanity-wise. Picked up my buddy, Paul and it was 2 degrees by then. Got on the road and got up to Warren, NH to ride groomed trails that snowmobiles and quads share in the winter. Even groomed the trail had some soft spots, so we weren't bombing along. Good thing. My buddy was ahead of me when my right front tire got caught by some soft, none-packed, snow. Skidded off the trail into the 2.5 foot deep powder. There was a downed tree laying at an angle buried in the snow. My right front tire popped off that and the quad went over on its side throwing me off. I landed about 10' from it in the middle of the trail on my back. After laying there for a few seconds trying to figure out if anything was broken I got up and brushed myself off. Quad was on its side still going. Shut it off and tried to tip it on its wheels. No dice. Went over to pick up my helmet that I had taken off and my glasses fell off. One of the ear pieces broke off the glasses. Found it in the snow with my electric cord for the visor heater. Couple minutes later two guys on sleds stopped and offered help. We were able to get it back on its wheels but not on the trail until I waded through the snow to the other side of the trail and attached the winch line to a tree. Took a couple minutes but it pulled right out. I had asked the guy if he saw a guy on a black Can-Am and they laughed and said, "He's off the trail up a ways." I thanked them for their help and after checking the oil went off to find him. Some oil had come out the breathing tube for the crankcase. Found my buddy walking towards where I had gone off the trail and picked him up. His quad was off the trail in a ditch that was about 3' deep. Another snowmobile stopped and helped us get his back on the trail by winching and lifting. We got to Lincoln, NH and stopped at a gas station where I got some super glue and fixed my glasses. Got some oil too and topped off the oil reservoir. Rode back to Warren and out to the outskirts for some more riding. Had to go through a few big fields where the wind had blown the snow into the tracks of the snowmobiles so it was tough figuring out where the groomer had been. Didn't get stuck and drove out towards a lake we usually stop at. By that time, the sun was going down, the wind was picking up, and it was snowing. Was pretty chilled by then so we decided to head back to Warren before the fields were impassable. Got back, loaded up and went over to a local restaurant and got the table by the woodstove. Was nice to warm up. We had been riding in the teens the whole day. On a side note: I'm thankful to God. We always pray for protection once we're loaded up in the morning and ready to drive to wherever we'll be riding. We pray for protection for ourselves, for the quads to be protected and run properly, and for a safe trip back and forth and when we ride. We ended up driving home in a bad snowstorm in NH and snow in MA. Saw a couple cars spun out and facing the wrong direction and one on its roof. God got us home safe. All in all, we did over 80 miles, and had an overall good time. I was a little bit sore and stiff in the back yesterday. Could have been the accident, could have been normal muscle soreness. It's mostly gone. God is good.
First accident. Was about a foot out on the groomed part of the trail when soft snow caught my front right tire and pulled the quad off the trail.
Quad then hit the log that is buried in the snow and popped up and threw me off the quad and ended up resting on its side.
Buddy, Paul's quad got caught by the soft snow and came to rest in a deep ditch.
Quads on the trail ready to resume the ride.

02-23-2015, 05:48 PM
Join Date: Mar 2013
Location: Solomon, Kansas
Posts: 390
Likes: 0
Received 0 Likes on 0 Posts
---
Glad you are okay. Maybe the snow softened your landing some. Getting thrown 10' doesn't sound like just tipping over. Too cold for me to ride. I get cold enough out plowing dirveways.

02-23-2015, 06:03 PM
---

02-23-2015, 10:27 PM
---
I'm glad you're okay Moose. 80 miles on snow sounds like a long day. I haven't ridden in the winter in a long time but I always liked it. Well, until I got stuck. Then I didn't like it so much.

02-24-2015, 02:49 PM
---

07-08-2018, 01:57 PM
Join Date: Jan 2016
Location: Perrysburg Ohio
Posts: 1,743
Likes: 0
---
Awesom pics....however that snow is a little to deep for me, especially that far away from help!! I like winter riding, just don't have much area to ride in around me.

07-08-2018, 09:40 PM
---
I think Feb 2016.
We both hit the drift thinking we could make it so we were both buried at the same time.
Thank heaven Kevin had about 100 ft of 1/2" nylon rope or we'd been digging for hours.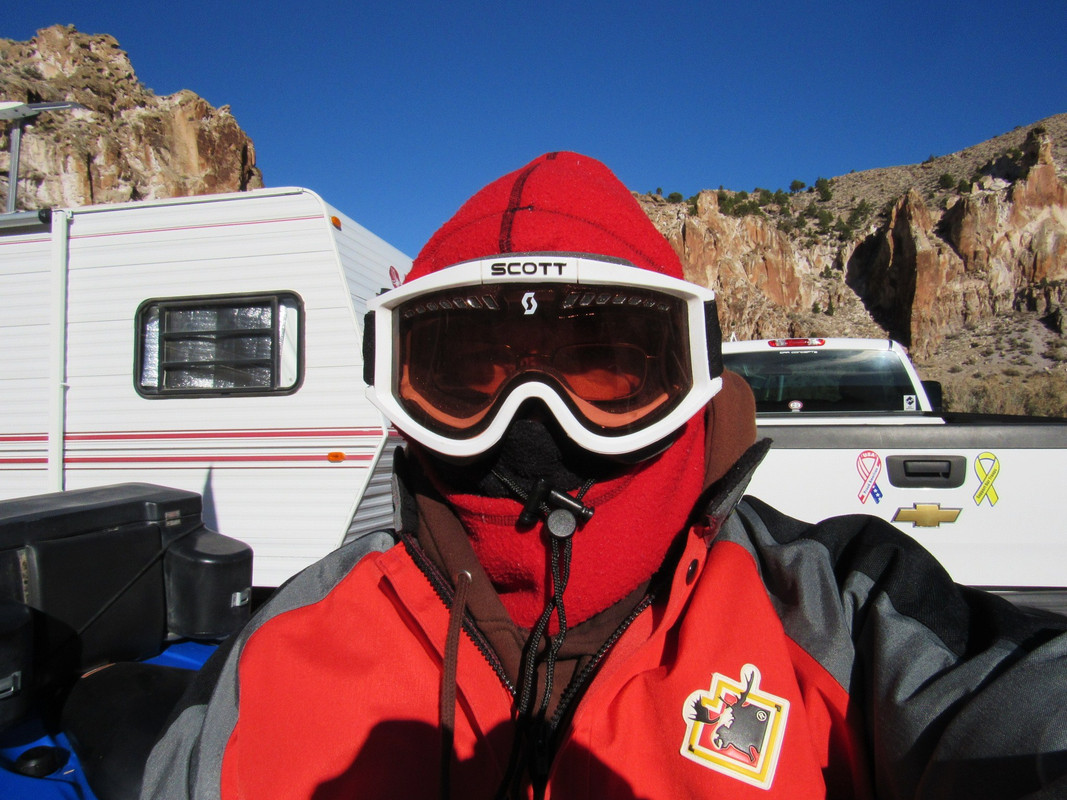 I don't mind the cold so much, its the heat I can't take.
This was Dec 2015. If I remember right it was about 17°. Notice my "Moose" racing gear.
When I went looking for that picture it reminded me of the ride we took that day.
Doug and I consider this one of our "epic" rides.
A Ride in the Snow. ATV Television. ATV. UTV. SxS. Tests Videos and Information. Latest News. Product Reviews. Ultimate Adventures
A Ride in the Snow. ATV Television. ATV. UTV. SxS. Tests Videos and Information. Latest News. Product Reviews. Ultimate Adventures