My Truck. How bout yours?

08-06-2018, 06:02 PM
Join Date: Dec 2004
Posts: 72
---
Thanks. The truck tows much better than I thought it would. Granted the V6 makes 310 HP, which is decent, but I think the 8 speed transmission is the main reason it tows so well. I remember the days when gas engine trucks were constantly searching for the right gear, shifting between too low of a gear and too many RPM, and too tall of a gear and bogging the motor. This engine/transmission always seems to have the right ratio, and doesn't feel like it is working very hard. I know I am not towing much weight, but it definitely does better than I expected. It is working very well.

08-10-2018, 05:16 PM
---
Having an aluminum trailer is a big factor too. The fact that your setup is not as wide really makes it track well within the air pocket the truck makes through the air. I have a double wide aluminum snowmobile trailer that I tow with. I can Barely get three machines on it, and it is over 8 ft wide, so it sticks out on both sides of my Ram. The diesel doesn't know it is there. Also when I pull my raptor Toyhauler, That is the first trailer I have ever pulled that the truck really feels the weight.


08-14-2018, 09:05 PM
---
The 4.8 liter V8 in my Silverado only puts outs 270 HP but that's enough for me. The only time I remember it shifting up and down searching for the right gear was when I was pulling my trailer at 85 MPH. I put it in tow/haul mode and it still did it. So I slowed down to 80 MPH and it quit. I shouldn't have been doing 85 anyway.

09-21-2018, 10:17 PM
---
My truck just hit 77,000 miles today. The odometer says 077007 right now. It doesn't show tenths of a mile but the trip odometer does. I couldn't hit the button right when it changed but it's not far from 0.7. At the rate I'm going, my truck will be 30 years old and have half of the body rusted away by the time I have 100,000 miles on it. The paint on top of the cab and fiberglass cap is turning white from the sun beating down on it for one month shy of 18 years.

10-25-2018, 12:22 AM
---
My 2011 Chevy 2500HD 6.0L has 174,817 miles on it.
I change my oil and filter every 5000 miles so its due for another one soon.
Since my last oil change just last month I've averaged 142 miles every day.
I'm retired and don't have a job.
I think gasoline is my single biggest expense.
I seriously need to cut back my driving.

I just replace my original shocks 4000 miles ago and it still has the factory brake pads on it all the way around.
Doesn't use a drop of oil between changes.
So far I'v been pretty darn pleased with my first Chevy PU.

10-25-2018, 03:42 AM
---
Before I bought my other Chevy truck I drove a Dodge Ram van. Sometimes I dodged. Sometimes I rammed. I wish I was joking about that, but I'm not. I had a lot of accidents with it. I had a cardboard box for the hardware I found that fell off in my driveway and I couldn't figure out where it came from. Most probably fell off while I was on the road and I never found it. They're just never the same after you roll one over and it keeps going for 500 feet or so. I have no idea why the insurance company made me wait for months while a dealer replaced most of the body, instead of just totaling it. One of the front fenders may have been okay since it was doing kind of a tail stand and spinning around. Who knew a 20' long van going sideways could make could leave a 5' wide track in the snow? I didn't, until that happened.

10-25-2018, 09:53 PM
---
My dad owned all of the American pickup truck brands including a Studebaker. He thought Dodge was better than the rest, and had the whole family convinced too. I don't know if he ever owned a new Chevy or just someone else's problem child, but after having problems with Ford and Chevy, he started buying Dodge trucks. But he ended up buying a Ford for his last truck, because even he was tired of Dodge trucks. My older brother bought a Mexican-made Ram pickup and said it was the worst POS he ever owned. So he bought another one!!! WTF??????
Drugs are bad y'all. Okay? My younger brother has a Ram too but I don't know if it's Mexican or Canadian. They'll probably both keep buying Ram trucks because they've convinced themselves they're better, even when they know otherwise. I had a brand new Ramcharger 4x4 that I totaled out in 6 months, then bought my Dodge van. That was enough Dodges for me. I switched to Chevy and got a truck made in America. Pontiac, Michigan to be more precise, where some people I used to work with transferred to before our plant closed. When I traded it in I got another Chevy made in Pontiac. My friend and his wife both have Chevy trucks too, and I think his was built where he works in Flint. It could actually be one that he helped build, but there's no way to know. One of his sons has a GMC pickup. His other son had a Chevy that had some kind of vibration at a certain speed, or something like that so he bought a Ram. So 3 out 4 people in his family have Chevy or GMC trucks and love them. Another guy we ride with traded in his old GMC Sonoma Highrider for a new GMC Sierra. Other than my idiot brothers I only know one person who owns a truck that's not a Chevy or GMC and they don't plan on switching to another brand. I just couldn't keep my 2 Dodges right side up. I've had much better luck with my 2 Chevys.

10-26-2018, 07:58 AM
---
Glad you're still here. That looks nasty.
I'v driven Fords all my life and they have treated me extremely well. I rode Honda's too. Now when I pull up in my Chevy with my Kawasaki in the bed my friends just marvel at what the see. LOL
Doing working for State Parks and the US Forest Service I get to drive all 3. Ergonomically the Chevy fit me the best. I just don't like driving the Dodges. I would swear the Dodge 1500 we had here rode harder than my Chevy 2500HD does.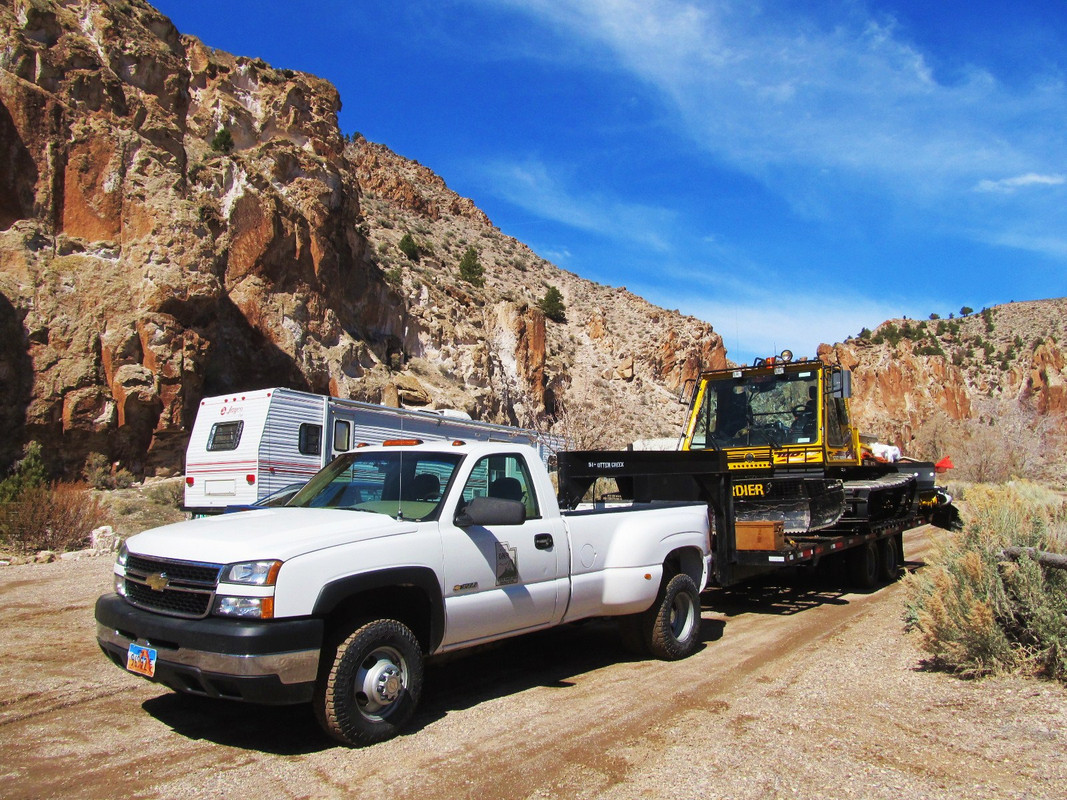 This truck influenced my buying decision too. Its a 2007 1-ton with a 8.1L Vortec and the 6-speed hydromatic trans.
The truck's CGVW is 22,000 lbs. Right there with the snowcat in tow it tips the scale just over 27,000 lbs. This is the primary job of this truck and it sits out most of the summer.
With over 70,000 hard miles on it there's never been an engine or transmission issue. Pretty impressive considering it works its guts out towing that snowcat.
And its comfortable to drive.
Thankfully its being replaced this winter with a diesel truck . Most likely a F-350.

10-26-2018, 03:42 PM
---
I had a Ford F350 diesel crew cab with the IH 7.3L engine. Puked out heater cores 2-3 times each winter??? Last straw was when the fluid blew out of the engine oil cooler. Dealership had it for a week and said they fixed it. They never did tell me what the problem was though I suspect the head gasket. After 8 months without another heating/cooling issue I traded it in. I just didn't trust it. I asked Ford and the dealership about getting a gas engine crew cab. They offered me a whopping $1000 off. Needless to say, I'm not a Ford customer anymore. Bought a brand new 2012 GMC Sierra gas engine 6.0L. Engine was fine. Window motors, two rear brake failures where the backing plates rotted and fell off. Transmission failed at 60,000 or so. Cost me over $9400 in extra costs beyond maintenance. When Nissan came out with the Titan I decided to try it. 5.6L gas engine was good and trouble free. Had a bearing issue and a couple small items. Nothing major. And I got almost $9000 off the sticker price too. Have been enjoying the newer Nissan Titan XD with the Cummins Diesel. Did well over the Rockies with 3 quads on the trailer, about 4500 lbs. all together and about a ton of gear in the pickup box. Only slowed down on the steep grades going over the Rockies. Much less than the gas engine Titan I had. Bought it with 25,000 miles on it through their Pre-Certified program. Paid about $25K less than if bought brand new. We'll see how it does as time goes on.