Hiking Trails too!!!

11-09-2018, 10:36 PM
Hiking Trails too!!!
---
A year ago my brother in-law came to visit and we were able to get out on an ATV ride and take in some hiking as well, in my file I have these pics labeled "Roberts Montana Adventure" He has been all over New Mexico, Colorado, and many times to Alaska so I figured this would not be a big deal to him to go for a ride and a walk in our "Montana" mountains since he's been in the high elevation of those other 3 states. It was a great ride and "walk", I went to a place I've never been in my 50+ years of living here and it's right out my back door. Sacajawea Peak.
Ready to hit the trail
On a clear day you can see all the way to Yellowstone Park behind by brother in-law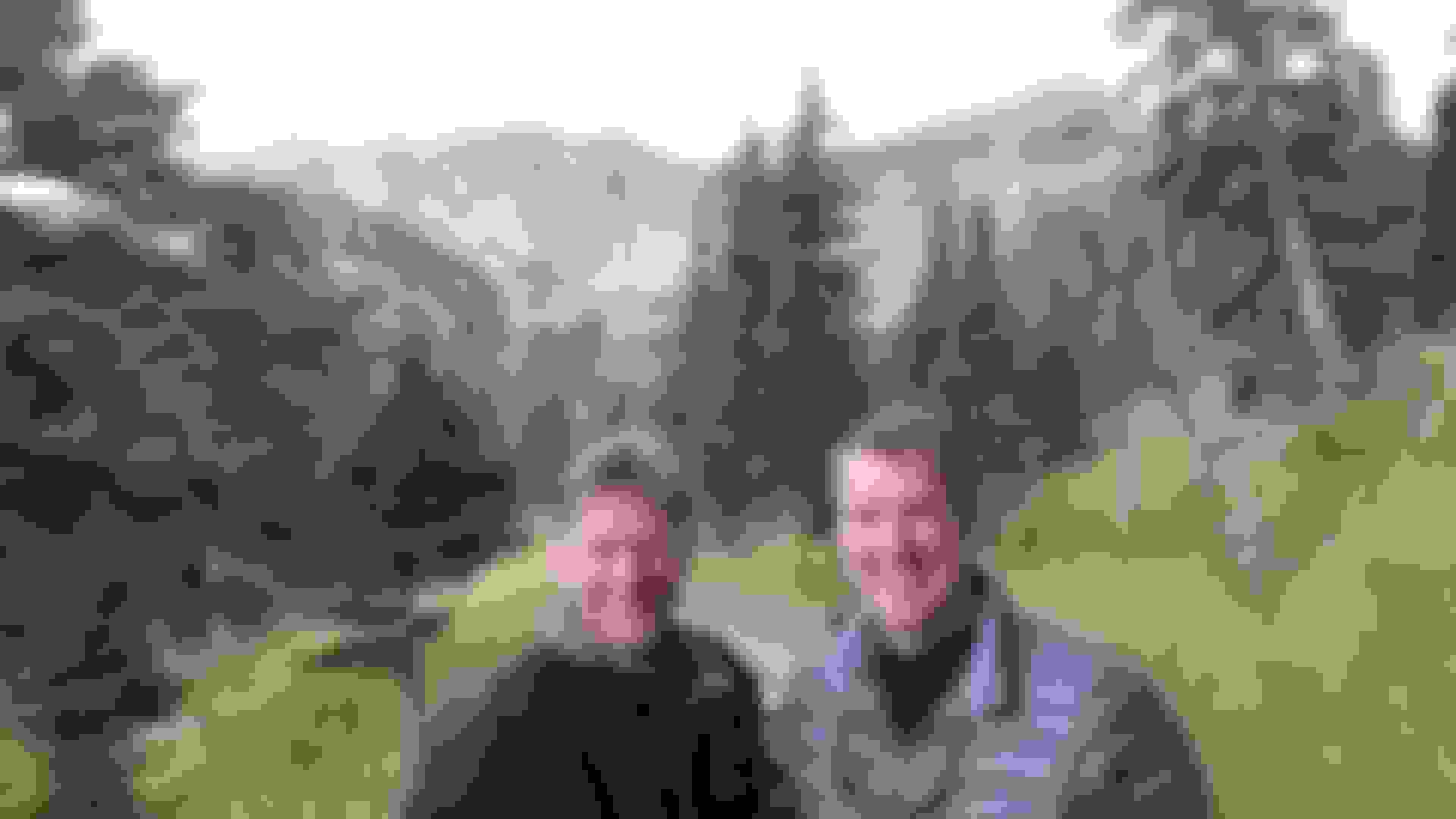 So many great spots to stop and take picks
Normally we see wild life through this meadow
Fairy Lake, one of the deepest mountain lakes in Montana, if you see the blue spot just below the clouds that will be part of our hike, it is the bottom of the saddle that is between two peaks, the peak above my left shoulder is called "Hardscrabble" the other one we are hiking to is "Sacajawea" it is behind the Rocky mountain behind the tree branch.
One of the mountain creeks running out of Fairy Lake
Our goal is up behind the big Rock behind my brother in-laws head.
Working our way up to the Saddle
Looking back down part of the way up to where we came from. This view looks into the Sheilds Valley.
You can see the first "Zig" in the trail
The trail in the middle of the pic is the bottom of the saddle between the two peaks.
This was a common sight on the way up, the altitude was pretty tough for him being from Texas, Dallas sits at 450ft above sea level. Where he's sitting is about 8700.

11-10-2018, 12:17 AM
---
He's pretending to enjoy the view, in reality he's just resting.
If you look close, the far mountain goes all the way down to the valley floor and right above that last bump before it drops down to the floor you will see a white dome, that is the Basket Ball arena for MSU in Bozeman. There is a race held every year called the Ridge Run that starts at the bottom and runners run all along the ridge up to where we are at and past to "Hardscrabble" a full length marathon. And you guys were probably thinking we were nuts!!!
The Highest peak in the center of the picture is "Hardscrabble"
About another 150 ft to the top
Very Breezy!!!!!!!!!!
Almost there!!!!
Made it!! Now, just to my right about 7 or 8 ft from my right foot is a drop almost vertical of about 1500 ft. Was really hoping that a big gust of wind wasn't in my future.
Robert was in awe. I made a comment about this probably not comparing to N.M., Colorado, or Alaska and he said "Are you kidding me?, This was one of the most spectacular places he had ever been. and some of the best views he's ever seen." I thought it was pretty cool too having never been up there. This is the Highest point on the Bridger Mountain Range but not the highest peak around here, some of the others don't allow you to get this close to a trail head with an ATV. Hmmmm, call me lazy!
This would be the drop if we would've moved to our right about 8 feet, as we all know pics never do justice to the steepness.
The final altitude of this walk is 9650 ft. If you look in the center at the bottom there is a plastic container, one of several, in it is paper and pencil to record you name and date you took the walk. There have been thousands of people up here, it was a shame I waited so long to get up here, and was bummed my wife wasn't with me.
I think he was a bit tired, and parched, we didn't take nearly enough water with us even though it was cool. He was scarfing down bananas like crazy.
Glad to be back at the truck as it started to rain.
As you look at this pic, if you look at the peak that is directly above the trailer jack and spare tire, that is the peak we were on. Accessed of course from the other side. One of the best days and best memories I've ever had with my brother in-law.

11-10-2018, 11:20 AM
---
Beautiful pics! Being from the Northeast, it never ceases to amaze me how big the country and mountains are out there.

I used to hike a lot. Mangling both knees and nerve damage in my back have put and end to most hiking for me. I think that's why I appreciate riding ATV's more than I would have. I can still get out in God's creation. It has always given me a sense of awe and wonder, and even as big as the country is, it's a small speck of what He's made. And yet, he loves us each individually....

Thanks for sharing these pics.

11-10-2018, 08:58 PM
---
The mountains are amazing. My brain can't comprehend what my eyes see in these pics because I have no point of reference. They're obviously huge but all I can do is think wow, that's a big area with big mountains, and not know how big they really are. The word awesome is a good description. If I was there I would be in awe, and you'd never get me that close to the edge.

P.S. I wouldn't be pretending to enjoy the view, I would be on the ground panting like a dog for a half hour. Then I would get up and enjoy the view.

11-10-2018, 11:37 PM
---
Frank,
I know that even after all these years even for me I sometimes can't comprehend the size of the mountains around us. After 53 years of living here and never having been up on top of those mountains, I myself was in awe and totally blown away. This Mountain range is actually one of the smaller mountain ranges in our area. And being on top did somewhat put into perspective how infinitesimal I really am. An absolute speck. Also having lived here all these years I can't even imagine
Not
having the privilege to be out in it. I am truly blessed, I wish that I could share it with all that would truly appreciate it. Here are a couple more pics that give a better perspective of the mountains from the valley floor.
This was taken from the end of the block I live on towards the mountains that we were riding and hiking in. In that circle is the peak that we hiked to from the lake on the back side. They stretch about 12 miles more to the right (south), and probably another 20 or so to the left (North) The entire valley is pretty much surrounded by mountains like this or bigger. From where I'm standing, that peak is 5200 ft higher than I am, and from where I am to where the foothills start at the base of the mountains is about 15 miles.
I took this pick from pretty much the same spot, it looks like I was facing south a bit more as I got part of the airport in the pic, you can see the vertical fin of a plane sticking up by the end of the building. This particular morning it was 42 degrees below zero. I couldn't even believe planes were taking off and functioning. Needless to say the air was a bit crisp.

11-11-2018, 01:58 AM
Join Date: Oct 2018
Location: Missouri
Posts: 48
---
Beautiful pics.

I went to Bozeman in late March 1999 to visit a friend there. I went skiing just outside Bozeman. Beautiful and rugged area.
Thread
Thread Starter
Forum
Replies
Last Post
Camping, Hiking and Exploring Gear
Camping, Hiking and Exploring Gear
Currently Active Users Viewing This Thread: 1
(0 members and 1 guests)